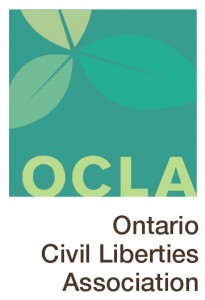 OTTAWA, June 20, 2013 – Closing arguments in one of Canada's most significant academic freedom cases involving the dismissal of University of Ottawa physics professor Denis Rancourt will be heard on June 25th and 26th in Ottawa.
The University is expected to argue that Prof. Rancourt has incited violence as far away as the UBC campus and as close as Ottawa's Glebe neighbourhood.
The Union will argue that the dismissal was made in bad faith, and will ask the arbitrator to give  Prof. Rancourt his job back and allow him to continue his academic career.
The Ontario Civil Liberties Association (OCLA) is concerned that the University is using incitement to violence and terrorism as pretexts to suppress one of its most prominent critics, and that the University's arguments invoking a professor's personal political views are reminiscent of the McCarthy-era pursuit of dissident intellectuals.
Tenure is intended to protect critics of society, yet the University of Ottawa will argue that Prof. Rancourt is an "anarchist" who incites students to violence, a blogger who insults his colleagues, and a teacher who grades fraudulently.
An exhaustive search of the professor's personal emails and an extensive spying campaign conducted by the University against the professor are unprecedented infringements on the civil liberties of a professional worker.
The final arguments before Arbitrator Claude Foisy take place on June 25th and 26th beginning at 9:30 a.m. at the Hotel Indigo Ottawa (Indigo Room) at 123 Metcalfe Street, Ottawa.
About the Ontario Civil Liberties Association
OCLA is an organization formed to defend civil liberties at a time when fundamental freedoms are subjected to a systemic erosion in all spheres of social life. OCLA opposes institutional decisions that remove from the individual his or her personal liberty or exclude the individual from participation in the democratic functions of society.
Contact:
Joseph Hickey
Executive Director
Ontario Civil Liberties Association (OCLA) http://www.ocla.ca
613-252-6148 (c)
joseph.hickey@ocla.ca
Caroline Wang (French only)
Treasurer
Ontario Civil Liberties Association (OCLA) http://www.ocla.ca
514-632-8805 (c)
caroline.hy.wang@gmail.com