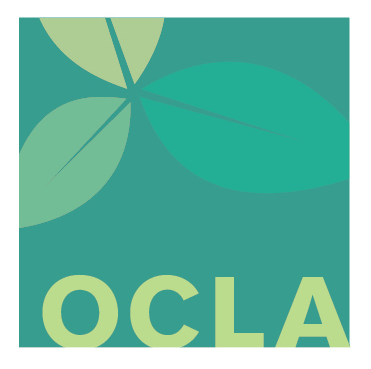 (English translation follows)
Notre nouveau logo a été conçu par la designer Marielle Maheu, de la firme Maheu Arbour. Il s'agit d'une illustration graphique des éléments de la trille, emblème de l'Ontario. Les 3 feuilles, de teintes différentes, représentent la variété des opinions des groupes ou des individus qui constituent notre société. Leurs points de vue et leurs valeurs différentes, qui peuvent parfois sortir des cadres établis, sont suggérées ici par les larges feuilles qui tentent de déborder du carré. De plus, le vert symbole du respect de la nature, de l'équilibre et de la tolérance aide à créer un ensemble harmonieux et mémorable.

Our new logo was designed by Marielle Maheu, graphic artist with the firm Maheu Arbour. The trillium, Ontario's provincial emblem, is depicted as 3 leaves of different colours, representing the variety of opinions held by groups and individuals in our society. Their points of view and their different values, which at times extend beyond traditional boundaries, are indicated by the large leaves which appear to overflow past the squared frame. In addition, the colour green, representing respect of nature, balance, and tolerance unites these elements together, creating a memorable symbol of the Association.